Wednesday, July 27, 2011
Who knew when she kissed that frog it would be her prince! This cake was for a friends Aunt's intimate wedding. Carrot with cream cheese. Yum.
In his hands are two small gumpaste rings, one with a shiney non-parel diamond. She is wearing a tulle veil as well as holding a bouqet in blue and coral.
Yay for weddings!!
Posted by

Kristie Cakes
at 10:08 AM
No comments:


A dear friend of mine made the big decision to move out of state to pursue more education. We are all very excited for him, but sad at the same time. It's probably good to know a lawyer though right?
I surprised him at his going away party with this cake. The top layer was a dark chocolate lager cake (Yes, I made it with beer!!) With a chocolate whipped cream frosting. The bottom layer was a Kristie Cake original -"Sparkle " Funfetti with a special twist.
We will miss you Andy. Good Luck!
Posted by

Kristie Cakes
at 9:10 AM
No comments:


Monday, July 18, 2011
When it comes to parties, I am a little crazy when it comes to the matching decor.
For my last minute fourth of july party I made sure everything was red white and blue.
Cupcakes were just layered white cake with a bit of almond paste and whipped topping.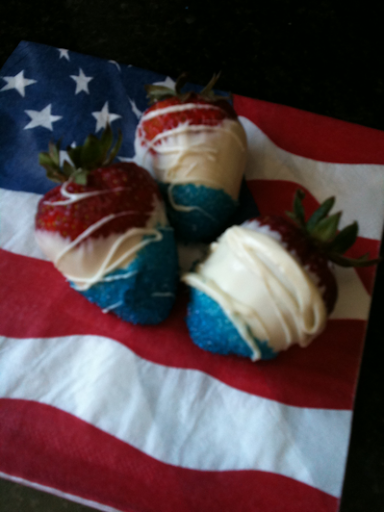 Red white and blue strawberries are easy! Just dip in white chocolate and roll in blue sprinkles.

Posted by

Kristie Cakes
at 11:10 AM
No comments: